A cup of fragrant spicy black coffee, laced with cardamom, can transport you to another world. Cardamom coffee is enjoyed in coffee shops in the Middle East as well as in parts of India. While coffee and cardamom may sound like two opposite flavors, the bitterness of the coffee is enhanced by the floral tones of the cardamom spice, making a delicious cup to be savored.
How To Make Cardamom Coffee?
It is quite easy to recreate and make cardamom coffee at home. In its simplest form, you can crush a cardamom pod and add half a teaspoon of instant coffee powder in your favorite espresso cup. Add boiling hot water from a kettle and let it steep for a minute. Your homemade cardamom coffee is ready! You can add sugar or cream if needed. But this spicy coffee is best enjoyed black and unsweetened.
To make a larger cup with freshly ground coffee, you can use a French press or a regular coffee maker. In Turkey, they use a traditional long-handled cup-like pot called a finjan. If you prefer to brew your coffee on the stovetop, you can use a small saucepan.
Also, while you may be tempted to use ground cardamom, it is recommended that you use good quality cardamom pods to make a good brew. A small jar of cardamom can last for a long time in your pantry if stored in a dry, dark place. While only the cardamom seeds are used to make the coffee, you can save the cardamom peels and use it flavor teas and any other warm beverages.
Here is the recipe to make cardamom coffee from scratch.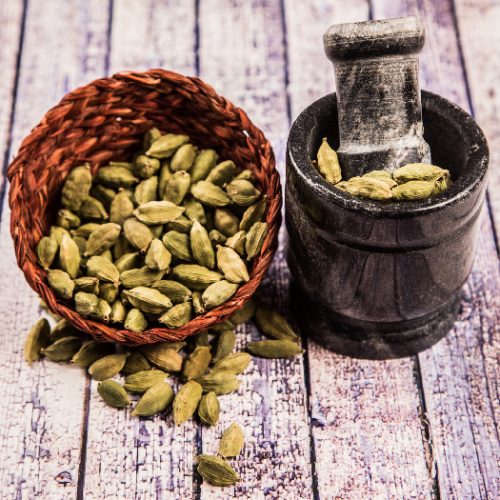 Cardamom Coffee Recipe
A fragrant brew that will instantly perk you up
Print
Pin
Rate
[1]
[2]
Ingredients
1

cup

dark roast whole coffee beans

10-12

tsp

cardamom pods

sugar

optional
Instructions
To prepare cardamom coffee, you will first have to remove the fragrant cardamom seeds from the cardamom pods. It is best to use an old-fashioned mortar and pestle. Crush the pods to pop them open and remove the seeds.

Grind the coffee beans and the cardamom seeds together to a very fine powder. Your cardamom coffee powder is ready to use. You can store it in an airtight container for several weeks.

To make a cup of cardamom coffee, you will need to boil just a little over 1 cup of water in a small saucepan. Let it come to a rolling boil.

Add 2 tbsp of the coffee-cardamom powder and sugar to taste. Let it simmer till the coffee powder begins to sink. It will take 2-3 minutes.

Remove from heat and let it sit for a minute.

Pour into small cups with care, leaving most of the coffee grounds in the pan. Sip your cardamom coffee and enjoy it!
Other Ways To Spice Your Coffee
If you enjoy cardamom-flavored coffee, you may enjoy these different spices to add a little something to your espresso.
While coconut oil may be an unlikely contender to be added to coffee, we assure you that it tastes quite lovely and has a tropical feel to it. Coconut oil in coffee can also be good for you. You can read Can You Put Coconut Oil In Coffee? for health benefits and recipes. While a good old black coffee makes for a perfect drink in the morning, do try these delicious spiced coffees for an afternoon-pick-me-up.